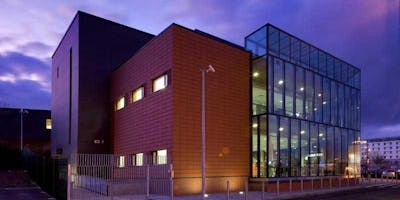 Launch of Art Exhibition: 'Summer Charity Art Exhibition' by Margaret Kiely & Eadaoin Glynn
Thursday, August 1, 2019 at 10:00 AM - Wednesday, August 28, 2019 at 5:30 PM (IST)
More Information →
Bishopstown Library :-
'Summer Charity Art Exhibition' by Margaret Kiely & Eadaoin Glynn
Margaret Kiely
Margaret is a Sister of Mercy currently living in Bishopstown.   Two years ago she retired from the nursing profession and now works as a volunteer IT tutor with Age Action. Recently she received the IT Tutor of the Year award at the Age Action Silver Surfers Awards in Dublin.
 Margaret was a founding member of Tabor Lodge Alcohol and Drug Treatment Centre (now known as The Tabor Group).
 Three years ago she finally found the time to take up Art and attend painting classes. Her new hobby brings her great joy and satisfaction. Margaret focuses her art practice on historic and iconic Cork buildings, working in both oil and acrylic.
 Margaret is delighted to participate in 'A Sense of Place' joint exhibition with Eadaoin Glynn, which will be opened 1st August 2019 by Jonathan Healy, broadcaster and Board Member of IMNDA, in Bishopstown Library, Wilton, Cork.
 "We are delighted to announce that the proceeds of all artwork sold will go to our charity partners: Age Action, Irish Motor Neurone Disease Association (IMNDA) and Pieta House" says Margaret Kiely.
Eadaoin Glynn
With a background in French and Business, Éadaoin worked in Paris, London and Dublin before returning to Cork in 2000. As a self-taught artist, she works from her home studio in Douglas, Cork, Ireland.   She paints abstract landscapes, mostly in oil and cold wax medium.
"I am interested in exploring the emotional response to place and the power of memory of place. Places hold memories; memories of childhood, memories from previous generations. Place and story are part of Irish pre-literary culture. Memory and story create power and connection to certain places; there is a feeling of loss, of something gone, the passage of time, the erosion of memory, ageing and death."
Glynn says: "I paint intuitively, abstracting landscapes primarily in oil and cold wax. The painting process starts with an image, a memory or an emotion. I build layers of oil and cold wax. The process of adding layers and marks, then excavating, scraping and dissolving them, builds texture and depth, creating a history, echoing how land is laid down, compressed and eroded over time."
Éadaoin has previously exhibited in the Lavit Gallery's '56th Annual Members' Exhibition' Group Show and CIT School of Music. One of her paintings has recently been selected as the cover feature of the forthcoming issue 7 of international art magazine, Murze.    
 As a native of Bishopstown, Éadaoin is delighted to be exhibiting in Bishopstown Library in aid of three Irish charities; Pieta House, Age Action and Irish Motor Neurone Association.
Exhibition Launch on Thursday 1 August at 2.30 p.m.
Exhibition opening by Jonathan Healy, Broadcaster
All Welcome
Admission Free